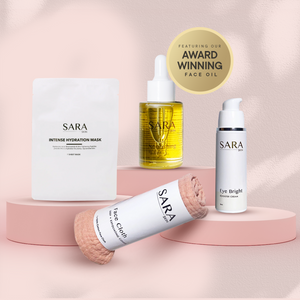 Winter skin got you feeling frosty? Say goodbye to dull, dry, and lackluster skin with our Winter Glow Kit, the ultimate power-packed bundle that will keep you glowing all season long!
Curated to keep your skin soft, supple, and glowing like a winter wonderland. ❄️✨
The Winter Glow Kit includes:
✨ Nourishing Oil Elixir - Face Oil of the Year!
Get ready to be crowned the queen of hydration with our award-winning Nourishing Oil Elixir. Packed with nourishing botanical oils, this elixir works its magic to replenish moisture, restore balance, and give your skin a luminous glow that will turn heads. Prepare to reign over winter with a face fit for royalty!
🧼 Face Cloth - Your Gentle Exfoliating Sidekick
Scrubbing away winter blues has never been so gentle! Our Face Cloth is here to save the day, providing you with a fresh-faced canvas by gently exfoliating away the day's build-up. It's like a superhero sidekick for your skincare routine, ensuring your skin stays smooth, soft, and ready to take on any winter challenge.
💦 Intense Hydrating Sheet Mask - Let Your Skin Drink Up!
Indulge in some self-care and treat your skin to a moisture surge with our Intense Hydrating Sheet Mask. It's like a cozy blanket for your face, drenching your skin in a wave of hydration and nourishment. Sit back, relax, and let the sheet mask work its magic while you enjoy a well-deserved pampering session.
💎 Eye Bright Booster Cream - Hello, Wide-Awake Eyes!
Don't let winter make your eyes feel like they're hibernating! Our Eye Bright Booster Cream is here to revive tired-looking eyes and banish those pesky dark circles. With its nourishing formula and brightening properties, it's the perfect companion to keep you looking fresh, awake, and ready to conquer the world (or at least the chilly mornings).
So, don't let winter dull your sparkle! Get your hands on our Winter Glow Kit and let your skin shine bright like a snowflake. You deserve to face the season with confidence and radiance!
*Disclaimer: Results may include random snowball fights and compliments on your glowing skin.